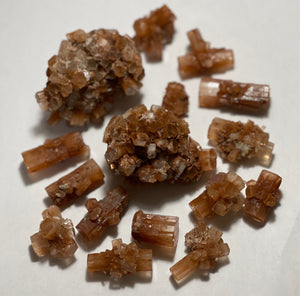 Aragonite cluster
Regular price
$4.00
$0.00
*Aragonite increases energy, boosts self-confidence and feelings of self-worth as you learn to place trust in yourself. A wonderful stone for parents and people in tense relationships that test the nerves, aragonite relieves stress, emotional fatigue and anger, bringing patience when it is needed most!*
Aragonite is the mineral normally found in pearls. It is polymorphous (same chemical formula but different crystal structure) with calcite and vaterite, and, with geologic time, probably inverts to calcite even under normal conditions.
Aragonite is a carbonate mineral, one of the three most common naturally occurring crystal forms of calcium carbonate, CaCO3 (the other forms being the minerals calcite and vaterite). It is formed by biological and physical processes, including precipitation from marine and freshwater environments.
The crystal lattice of aragonite differs from that of calcite, resulting in a different crystal shape, an orthorhombic crystal system with acicular crystal. Repeated twinning results in pseudo-hexagonal forms. Aragonite may be columnar or fibrous, occasionally in branching helictitic forms called flos-ferri ("flowers of iron") from their association with the ores at the Carinthian iron mines.
---
Share this Product
---
More from this collection