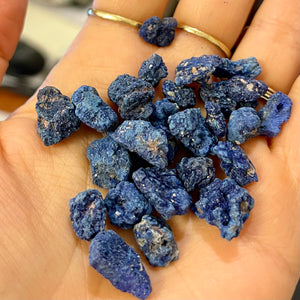 Azurite raw 2pk
Regular price
$2.50
$0.00
two small pieces of raw Azurite. 
 Azurite is a soft, deep-blue copper mineral produced by weathering of copper ore deposits.Ancient people used it as an ore of copper, as a pigment, as a gemstone, and as an ornamental stone. It is still used for all of these purposes today.
Azurite is well known as the "Stone of Heaven" for its magnificent properties. It activates the connection between mind and body, allowing you to focus more. It enhances skills and psychic abilities which helps you to enter a deep state of meditation, giving you a feel of heaven.
Azurite encourages the expansion of awareness and spirituality because of its ability to calm the spirit while stimulating intuitive thinking. This blue crystal is often used for seeking inner wisdom, allowing you to find the spiritual guidance you need for effective communication with your spirit.
Place Azurite on the 3rd eye energy center in your stillness and feel the buzzing of the support around you.
---
Share this Product
---
More from this collection