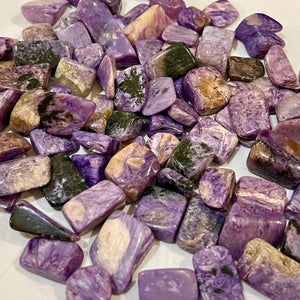 Charoite tumb.
Regular price
$1.00
$0.00
Charoite K ₂Si ₄O ₁₀•H ₂O is a rare silicate mineral, first described in 1978. It is named after the Chara River, despite its being 70 km away from the discovery place; the river is named after the Russian word chary, meaning magic or charms.
Charoite stimulates and regulates the blood pressure and pulse rate. Improves sleep, overcomes insomnia and allays nightmares. Charoite treats the eyes, heart, liver and pancreas as well as healing general conditions of the nervous system.
Emotionally, Charoite is both a protective and an energizing stone for empaths and healers. It motivates us to channel our efforts toward enacting positive change and helping others while assisting us in setting healthy boundaries.
---
Share this Product
---
More from this collection